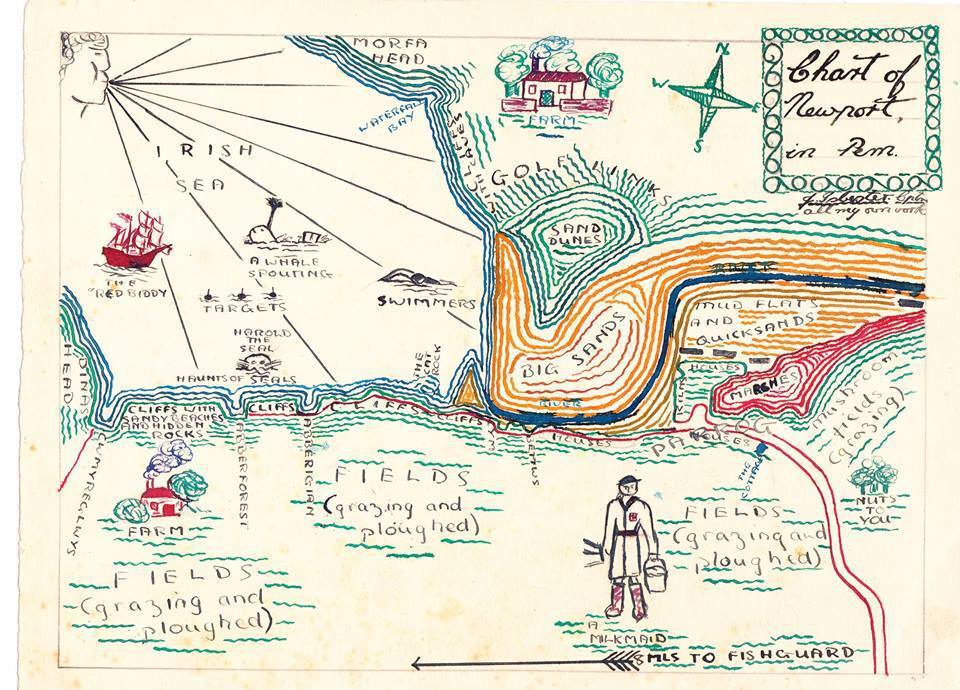 This chart was made by Jack Isbester in 1947. Jack lived in Peerie Hoose in Newport in the war and then spent all his holidays there. He went to sea at 16 and then spent his leaves with his parents on the Parrog until he married. He and his brother saved up and bought the little boat, Tirik, mentioned here. They were only allowed out if they had checked with Jack Price of Seagull Cottage that the weather was all right.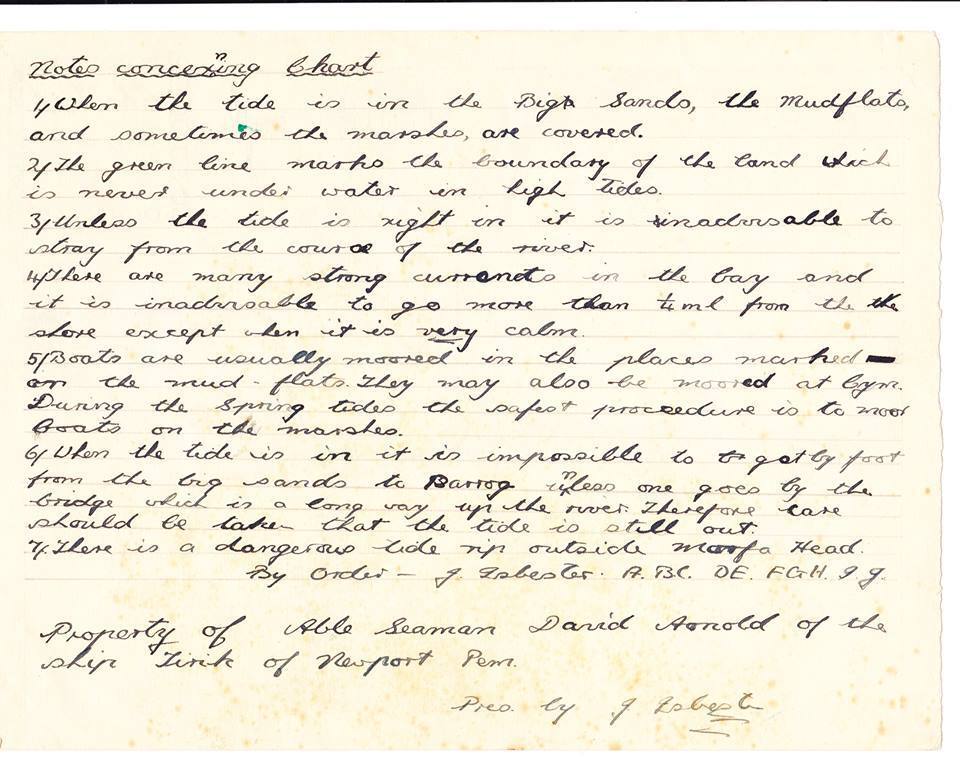 Jack drew the chart for his cousin David, who was the able seaman in the boat of which the captain was Jack. The map was found in his effects when David died recently. The family was from Shetland and all the family boats have been given the Shetland names of birds. Tirik is an arctic tern.
Jack says, "The three buoys, labelled 'Targets', remained for some time after the end of WW2. During the war fighter planes used to zoom over the sand dunes out into the bay firing at the buoys with their machine guns. The cartridge shells used to litter the sand in front of the dunes.
More recently, Jack wrote a book about his grandfather, Captain John Isbester. Follow this link to find out more.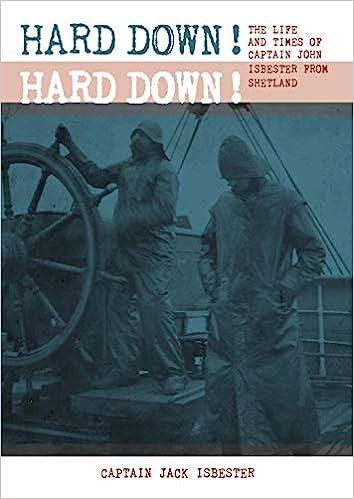 In 2000, Jack wrote a piece for the Newport Millennium Book about the history of Peerie Hoose under the stewardship of the Isbesters. Here is his contribution in full:
In 1912 or 1913 my aunt, Kathleen Isbester, married Lewis Davies from Trewilym- Isaf, Eglwyswrw, Pembs. who had been first mate of the square rigged ship DALGONAR, owned by Gracie Beazleys of Liverpool and commanded by her father, a Shetland sea captain named John ("Jack") Isbester. They rented "Peerie Hoose" from 1917.
The title deeds of "Peerie Hoose", which identify the property only as
that messuage or tenement garden and premises situate at Parrog in the parish of Newport in the country of Pembroke as now in the occupation of Mrs Davies having af rontage on the North side thereof to Parrog Road and Parrog Beach and bounded on the East side thereof by a dwellinghouse and garden which the said Emma Bowen has contracted to sell to Captain John Luke ["Rose Cottage"] and on the South side thereof by the outbuildings appurtenant to Wellfield Grove contracted to be sold by the said Emma Bowen to Mrs Michael and Mrs MJ Powell Jones respectively and on the west by land [later Parrog Store] belonging to Mrs Vaughan.
show that the property was subsequently bought from Emma Bowen of Westleigh House in the town of Newport in the county of Pembroke, Widow, by my widowed grandmother, Susan Elizabeth Isbester, on 23rd December 1919.
My grandmother named the cottage "Peerie Hoose" which is Shetland dialect for "Little House". My cousin John Davies was born in Peerie Hoose on September 8th 1917 and lived there for the next three years or so. After a lifetime of farming in Shetland and Cardiganshire he now lives in retirement in Aberporth and recalls many happy school holidays spent at Peerie Hoose.
My father Allan Isbester encouraged his own artist friends from Goldsmith College where, at the end of the first world war, he trained as a teacher, to visit Newport. Frank Winter, Archie Sanderson and his wife Greta, who continued to paint under her maiden name of Greta Ward, returned throughout their lives to record, usually in watercolour, the many glories of the Pembrokeshire coast and countryside and to spend convivial evenings in Peerie Hoose. Others from their circle such as George Mackley were probably amongst the visitors in the 1920s.
John Davies recalls Peerie Hoose in the 1920s. brimming with artists fed in relays by John's mother Kathleen who was an exceptionally gifted cook, as I too can recall. John spent time with the artists and learnt a lot about painting from them. He was able to use this knowledge when painting became his own hobby.
John's wife Aeurona (née Thomas) recalls, "In the summer John's mother would have Lewis' relatives in Peerie Hoose. We'd all gather in front of the house for a picnic tea – garden flies and wasps under the trees - after a day over at Cwm or Traeth. The high tides seemed to come right up to the edge of the grass outside the cottage when we were youngsters – that was a great joy."
In the back garden of Peerie Hoose my grandmother planted an assortment of fruit trees. They were: damson, Victoria plum, eating apple, Bramley apple, winter (keeping) apple, russet apple, seven crowns apple.
After my father's many happy holidays in Newport in the 1920s it is no surprise that he loved the place. My grandmother recognised that and left Peerie Hoose to him in her will. He inherited in 1931 and Peerie Hoose became the base for our family holidays for the next thirty years. I was born in 1934 and my brother Peter in 1935. In the pre-war years I believe that my mother (Jean Craig Isbester, née Hunter) spent most of the summer in Newport with us, my father joining us for the long school holidays. My mother was a great walker and occasionally mentioned that she had once pushed my brother and me, in the pram, from Newport to Rosebush and back which I find impressive but not incredible. [As a young merchant navy officer I once pulled a rickshaw containing two of my shipmates from the Kidderpore Dock No.3 gate to Chowringhee in Calcutta, a distance of two and a half miles. Energetic pursuits are a characteristic of the family.]
In 1939 when the war started we were in Newport. My father returned to his Essex school which was evacuated to Ipswich while my mother, with me and my brother, stayed in Newport. Had life been normal I would have started school in Essex but instead my mother gave me lessons at home. That was our first winter in Newport and I can recall walks during which we were shown hazel catkins, snowdrops, violets and primroses, sights that still remind me of early childhood.
It can only have been that winter, too, that I can recall the bramleys and the winter apples being spread out on the wooden floor of the attic to provide a stock of fresh fruit for us during the winter. The sweet smell of the ripening fruit remains with me to this day. As we became older my brother and I became principal fruit pickers to the family and very few fruits of any sort, even on the highest branches, could escape our skilful attentions.
In 1940 my father's school was transferred to Maesteg and we joined him there for the next three years moving again, to High Wycombe, when my father's school returned to Essex in 1943, but still spending each long summer holiday in Newport.
From September 1940 May Miles and her daughter Jean, who had been our neighbours at Morfan, lived in Peerie Hoose. Jean has written as follows.
"My mother, May, and I moved into Peerie Hoose in the September of 1940. We moved from Morfan where my mother kept guests, after my father died when I was 6 months old The visitors had to bring their own food with them because of the rationing.
My memories of living there are all happy ones. Many people would come to the door selling such things as milk, swedes and groceries, and all by horse and cart. I remember the soldiers knocking on the door to tell us that we would have to go up into the town as a mine had been washed up with the tide and we would have to stay away until it was defused We would then go and stay in College Square with my grandmother, Amelia Edwards.
The sewage to Parrog was a big event. I think it was mostly Polish Prisoners of War who did all the work. The children had a lot of fun in the huge pipes and the men provided us with sweets. The end result was that we had a flush toilet at Peerie Hoose.
I remember VJ Day with all the dancing and singing on the square until late into the night.
During the summer holidays each year my mother and I moved in with my grandmother while the Isbester family were at Peerie Hoose. I must have spent all my time with Jack and Peter's family, as all I remember were fun packed days of picnics, swimming and enjoying the boat.
I remember every nook and cranny of the cottage with great fondness. The old circular table that I did my homework on by lamplight is still there! "
Nowadays Jean is a grandmother and lives in Penarth, but still returns for occasional holidays to Peerie Hoose
We were in Newport for VJ Day in 1945 and I recall flags being flown from almost every house on Parrog. In those days West Wales still provided many seafarers, including ships' captains, and it seemed that every second flag was a red ensign.
I have many memories of Peerie Hoose, and Newport, between 1945 and 1950, my years in secondary school. We spent every summer holiday in Newport except for 1947 when my cousin John, farming in those days in Shetland, was to be married to Aeurona and we spent the holiday staying with them.
Back in Newport we had bought ourselves a boat. Mr Wilde was building "canoes" in Newport and my brother and I decided to save up and buy one. Our parents enC0uraged us to raise our sights higher and said that they would share the cost with us. Vince Morris (Glan-y-Don) advised us to choose a 12ft clinker built dinghy from J Hinks and Sons of Appledore. I think that it must have been delivered in 1946. It had a mast and sail but no keel or centreboard so its sailing performance was limited and when the mast was unrigged but in the boat it hampered the rowing. In the main we used our boat for rowing.
One of our parents' rules was that, before taking the boat out into the bay we should consult Jack Price (a retired seaman living in Seagull Cottage) or Vince Morris as to the weather prospects. They always took the consultation seriously and their advice must have been safe because I do not recall ever having been overtaken by really unpleasant weather. As Peter and I became bigger, stronger and more experienced we explored Newport Bay with family and friends, putting out on a morning tide, spending the day on a deserted beach between Aberfforest and Cwm-yr-Eglys and returning with the next incoming tide.
Up until 1960, when my parents retired to Peerie Hoose, the cottage was lit by oil lamps and candles which gave a gentle light, with soft shadows. Cooking was done on an oil stove, the house was warmed by wood or coal fires and water was carried from the pump at the start of Wellfield Grove. The coalshed stood where the bathroom now is. Mr John, the farmer, used to deliver milk fresh from his cows. He measured it and poured it into our jugs with a hand which, although it shook, never spilt a drop.
Baths were taken in a zinc tub in front of the fireplace, with water delivered in kettles and saucepans heated on the fire. When my parents retired to Newport they feared that they might never see their "London" friends again but that fear proved groundless. The surroundings, and my parents' welcome, ensured a steady flow of visitors to that lovely part of Wales.
Between 1960 and 1974, when my father died, my parents lived in Peerie Hoose and the back garden, responding to my mother's skilful ministrations, was a delightful mixture of colourful flowers, manicured lawns and productive raspberry canes and red, white and black currant bushes. My contribution to the garden when I visited, latterly bringing my own family with me, was the occasional wheelbarrow load of seaweed to enrich the soil, and assistance with some of the heavier pruning.
Since my mother's death the fruit trees have been removed and the garden has been grassed over - practical for a home that is only lived in intermittently, but not as enjoyable as a cultivated garden.
For the last twenty five years Peerie Hoose has reverted to its status as a holiday home enjoyed by three generations of the Isbester family and numerous friends. Nowadays it is warmer and more comfortable than in earlier times but perhaps lacks something of the charm it possessed when lit by oil lamps.
We don't know when Peerie Hoose was originally built or who lived in it before my Aunt Kathleen, though that information still probably exists somewhere. Finding that out remains a task for the future.
July 2000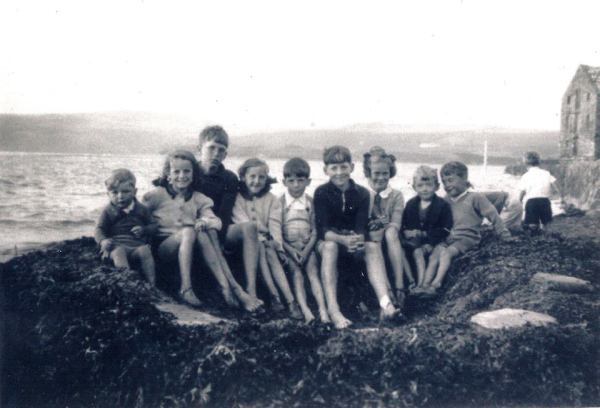 Jack and Peter Isbester on Parrog in the 1940s with some friends.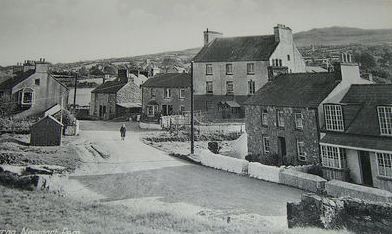 Peerie Hoose (just above the person in the photo)